Friday's Inspiration Weekly
Whoa, Time Out!
Nature is always lovely, invincible, glad, whatever is done and suffered by her creatures. All scars she heals, whether in rocks or water or sky or hearts.
There are for starters, grandeur and silence, pure water and clean air. There is also the gift of distance… the chance to stand away from relationships and daily ritual… and the gift of energy. Wilderness infuses us with its own special brand of energy.
Help! My life is so busy, I need a break before I can continue.
What will help me to recharge and reconnect, in preparation for the next round?
&nbsp
---
Spotlight: Dancing On the Edge by Sandra Cosentino
Modern society is full of distractions, busyness, watching life on TV, instant gratification, noise, intellectual stimulation. Moving fast, living in our head, we seem to have lost touch with direct knowing of the heart, of trusting our own instincts. Subtle signs come to us constantly. From nature, in our dreams, in the words of friends and co-workers. Do we slow down enough to listen? If I slow down, I will have to be with me. That's too frightening. So we keep dancing on the edge of an unlived inner life that calls to us. To heed the call of our wild heart or that big dream will take us outside our comfort zone around a bend from which there is no return.
David Whyte speaks eloquently of this edge place in Crossing An Unknown Sea…
"We all have our own ground to work, you know. You have yours, too. You just have to find out what it is. But you know what? It is right on the edge of yourself. At the cliff edge of life. That's the edge you go to. Put yourself in conversation with that edge, no matter how frightening it seems. Look down over that edge..."
And poetically Whyte relates vision and nature:
"Genius in Latin originality means, the spirit of a place. The genius of an individual lies in the inhabitation of their peculiar and particular spirit in conversation with the world... You only have to touch the elemental waters in your own life and it will transform everything... We journey from one unknown sea to another, the wind on our face, meeting the elements. Out of this conversation, we create a directional movement that ensures our survival and creates exhilaration -- an immersion in the present whilst we simultaneously experience the joy of speeding toward our destination."
Going into wild nature is an ancient way of connecting with your own soul. Simply being alive and fully present in the moment opens a direct connection to all of Creation which shamans call a state of ecstatic union.
If you can feel this even for a moment, it will change your life forever. In the seeming simplest ways is hidden profound wisdom. The gateway is within.
About the author: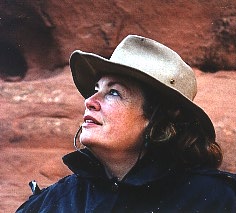 Sandra Cosentino, M.S., resonates with the vibrant energies of a land alive with stories, sun and rocks that speak and renew life. Her informed passion, mystical understandings, intuition and warm welcome create a bridge for you to enter this world. As the creator, owner and head guide for Crossing Worlds Journeys, Sandra creates customized nature-cultural and earth-spirit-shamanic personal growth and educational experiences for colleges, universities, families, businesses, international and domestic groups and visitors from around the world. Visit Crossing Worlds Journeys at

http://www.crossingworlds.com
---
&nbsp
A Second Helping: Daily Meditation, a Path to Happiness by Judi Singleton
"In order that the mind should see light instead of darkness, so the entire soul must be turned away from this changing world, until its eye can learn to contemplate reality and that supreme splendor which we have called the good. Hence there may well be an art whose aim would be to effect this very thing."
If you have accomplished meditation "the art of doing nothing" in this goal orientated, high stress, fast paced world, you have really accomplished an important goal. Many people today are driven by the belief that if I do enough of the right things, read the right books, have enough money, I will be alright. It is a rare person in this age that can become still enough to stop this pursuit. So if you are one of them who knows how to achieve the "art of doing nothing." and are alright in the moment you probably don't need to read this article but for the rest of us read on.

The fast paced seeking life, future orientated, when I have this I will be at peace or be happy takes away the very peace and happiness we seek. The spiritual teachings of the world recommend some form of mediation. It is for the purpose of stilling the mind and being alright in this moment.

Allowing oneself to quiet the mind is important. Stilling the mind is not just another mental exercise. It is a change of attention. Meditation is focusing on the inner world and away from the physical and mental world.

One does not have to fight the inner chatter, for as soon as you focus on being still the inner chatter begins. Just bless each thought and let it pass through. Unconditionally love your thoughts. They will become quieter as you just accept them and let them pass away.

Self-actualization in the depth of "you" - In this quiet state, one is aware of the self being one with all. In our outer world we are always defining self by outer events, our sex, our age, predefined society's definitions. Such an identity is, however, forever at the mercy of events, forever vulnerable, and forever in need of protection and support. If anything that defines us depends on change we are immediately threatened. In this state we are "I" centered. If we are experiencing then "I" am the experiencer. How many times a day do we use the I in either thinking or speaking. When we are the I or individual, we are alone and vulnerable and must constantly defend. But what we find in the silence is we are part of the whole.

Although the self may never be known as an object of experience, it can be known in another more intimate and immediate way. When the mind is silent, when all the thoughts, feelings, perceptions and memories with which we habitually identify have fallen away, then what remains is the essence of self, the pure subject without an object. What we then find is not a sense of "I am this" or "I am that;" but just "I am".

Most of us need a daily dose of this because we are heavily conditioned. This is our place to slow don and relax. A place of unconditional acceptance and love. A place where we do not have to do to be.

About the author: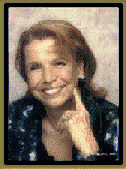 Judi (Judith Schultz) Singleton graduated from Marylhurst College of Lake Oswego, Oregon with a Bachelors Degree in Humanities in 1992. She spent 20 years as an addictions counselor then working extensively with seniors. She is an experienced family, death and dying counselor. She describes her unique spiritual tendencies as "eclectic." Judi draws a great deal of spiritual comfort and knowledge from the fine arts. Her interest in mythology dates back when she was first read the myths by her mother before school age. The Divinity of Beauty, and Archetypes of Mythology - arcane motifs and symbols which are found in spiritual pictures and stories in every part of the world, and in every time in history, are at the base of who she is as a woman.

Judi is the Webmistress of

Jassmine.com

, and contributing author to several publications.
---
&nbsp
From the Feedback Button: In regard to Passionate Pursuit
"I don't know how you're able to so often have your finger on the pulse of what's going on in my life, but this week's articles hit squarely upon what I need to be focusing on - thanks to the authors and you, Michael, your words especially hit home... Doing what's right, though painful... Thanks, JH"
I suppose if I live long enough, every lesson I need to learn will come my way. Call it synchronicity, but there were several other readers who expressed the same thing, JH. It is comforting to me to know that I am not alone in this "stuff." Thank you, readers, for being there for me!
Laura K wrote, "Thanks - You have managed to uplift this hurting heart of mine, so many times. You are doing God's work every time you do this."
I am not the blessing, Laura, only the conduit through which it passes. Thank you, for giving me the opportunity to serve!
Click to send your
to me right now!
---
&nbsp
Feature: Squat Before Jumping
I just returned from a quiet retreat on the Oregon Coast. I needed this break before traipsing off to the other side of the country to work at the home office for five weeks. After five months of unemployment, I am grateful to be back at work, but this last month has been intense, getting my feet back on the ground at a new assignment.
As is often the case when starting a new project, I have had to hit the ground running; Now, between phases of the project, I needed a time out. Or, was it that I needed time in? Time within, to prepare myself for what is to come in the near future.
A quick read of Po Bronson's What Should I Do With My Life? offers some timely inspiration. In an interview with National Public Radio, Mr. Bronson stated:
"...we make certain presumptions about how the world works, and then make decisions guided by those presumptions. Well, it all goes wrong when those basic presumptions are inaccurate. Those are presumptions more about how we want the world to work, rather than how it actually does. Here are four wrong presumptions, which we have wrongly accepted as true:

That money is the shortest route to freedom.

That we can think (or analyze) our way to an answer of where we belong.

That we are autonomous from the environment that surrounds us.

That our biggest obstacles are external, rather than internal."
While Mr. Bronson more often talks about major life changes rather than everyday existence in this interview, there is something to be learned here.
This is not about money. I am doing what I love to do, and I enjoy the greatest freedom life can offer me in that respect. Keeping that in mind will make my job more enjoyable, no matter how difficult it may be in the moment.

I must listen to what is going on around me, to be led to the answers needed to deal with the problems involving this project. I must work from the heart, and make choices based on love, to be truly empowered to do my job well.

I can be sensitive to the concerns of people I work with, and their environment, so that I can understand my part, my connectedness, in the overall effort we can make as a team.

If I look within myself, all the answers are waiting to be discovered. I have all the tools necessary to see this project through to a successful completion. I must remember not to let my ego be the greatest hurdle to overcome.
I learned at a young age that standing straight-legged while trying to jump up off the floor or the ground just doesn't work. You've got to squat just a bit, tense the muscles in the legs, then push up pretty hard. The more you squat, the higher you jump. Go ahead, try it.
Any athlete will tell you that the greatest successes they have experienced occur when they are mentally prepared, as well as physically. Call it "hunkerin' down" like they do down in the deep south. Give it what ever name you like.
I am ready to jump, and I am grateful for the lesson that this brief interlude has given me.
| | |
| --- | --- |
| | |
---
&nbsp
Also Highly Recommended: There have been more than 400 visitors to the website - Thank you for your continued support! Over 440 of our partners on the Internet graciously recommend visitors to Friday's Inspiration. Please take time to visit the "Highly Recommended" links below.
52Best.com: Stories that touch the heart and the mind, stories that bring a smile to your face, or a tear to your eye, emailed each Friday morning. By sharing stories of compassion, understanding, and creativity, you and 52Best.com create a kinder, better world in which to live. Good enough to pass on! Get a FREE Subscription to 52Best today.
PartnersInKindness.org: Kindness has been Shmuel Greenbaum's personal response to terrorism. His wife, Shoshana, was murdered by a suicide bomber, one of over 100 victims that were killed or injured at 2:00 P.M. on August 9, 2001 at the Sbarro restaurant in Jerusalem. The result of his response touches many lives through Kind Words, a free weekly email that contains inspiring stories along with successful techniques and exercises to improve your own ability to perform random acts of kindness.
---
Brought to you by F.I.'s *Shameless Commerce* Division: (100% of the proceeds from the sales of products and services advertised here will benefit Court Appointed Special Advocates for abused and neglected children - CASA.)
:
---
&nbsp
The rest of the stuff: Article submission guidelines, Subscription information and Member's List Maintenance:
Your suggestions for inspirational topics and inspiring authors are welcome. Guest Authors are encouraged to submit their article to Articles@N-Spire.com - Article length should be approximately to 600 words in any format, and should be on an appropriate subject. Please include a short biography and picture. Please, no business or marketing related articles.
Friday's Inspiration continues to be visited by inspiration seekers from around the world! Help spread the word about this one-of-a-kind website. You are welcome to invite your friends to join us by forwarding this message. They may subscribe by sending a blank email to fridaysinspiration-subscribe@yahoogroups.com
Friday's Inspiration Groupmail members may edit their email options at http://groups.yahoo.com/group/FridaysInspiration/join
To unsubscribe from this list, send a blank email to fridaysinspiration-unsubscribe@yahoogroups.com or visit http://groups.yahoo.com/group/FridaysInspiration/join
Online issues of this newsletter can be found at http://groups.yahoo.com/group/FridaysInspiration/messages
Peace and Light,